The winter season has begun its prowl in most regions of the planet. As the freezing winds and snow fall upon the ground, the fashion world recognizes the arrival of layers. The chills and bitter cold that often accompanies December has to be crossed out with some fantastic fashion trends to make the end of 2020 look dazzling and memorable!
This is the time to open up the old crates in the wardrobe and go through the collection of Uggs and boas, coats and jackets; everything that hasn't seen the sun in the last six months. We believe that winter is the best time to explore individual style. It allows you to define the balance of colors and cuts to find the most suitable combinations for the contours of your body.
What makes winter styling complicated?
There is no denial in the fact that winter is best time to brush up on your casual styling skills, but it also seems to have a downside. There is a straightforward chance of you falling in love with one of the best selling jackets online and then wearing that piece throughout the season!
Since tis the season to layer up, you get to play Miranda Priestly in your closet for six months straight. From finding the right color combination for your leather skirt and faux fur jacket to donning your favorite pair of skinny jeans with an over-sized coat, each outfit will require a little effort to oomph up your looks.
Speaking from experience, we know how casual styling in winter becomes a lot of effort. You have two goals for each combination; being toasty and stylish at all times! To help you find the winter fashion nirvana, we have collected a list of celebrity-inspired looks to help our readers with a few basic lessons. From layering to draping, there is something on every aspect of style from the ladies we all love and adore!
Look#1 Gigi Hadid in over-sized blazers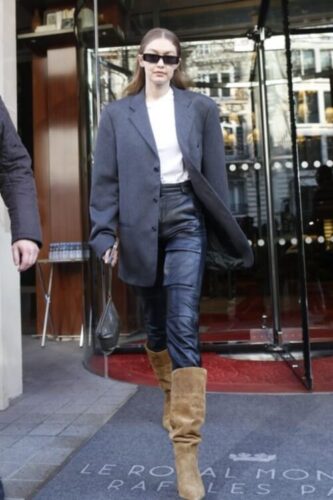 One cannot speak of fashion in 2020 without mentioning Gigi Hadis. Being the most loved top model in the fashion world, Gigi sure gives fashion inspiration off the ramp too! This look of an oversized blazer with leather pants and long boots is a statement in itself! This look is ideal for a casual day around the city. You can add a mask to this look and you are all ready to rock on your feet!
Look#2 Bella Hadid in knits
Speaking of another Hadid sister, Bella here is giving some major FOMO. In a casual cream knit sweater and shoulder bag, Bella's outfit is simple to recreate for a female of every age cohort. From the black jeans to the red scrunchie on her arm, the balance of accessories reveal it to be the perfect look for a quick run for chores or an appointment that cannot be rescheduled!
Look#3 Priyanka Chopra Jonas in a red leather skirt
Priyanka Chopra Jonas has a very sophisticated yet fashion-forward style. The daring red skirt with leather cut outs and red boots along with the over-sized coat and turtleneck is ideal for the petite figures. If you are planning to maintain a willowy silhouette, then this outfit is par excellence for the event.
Pairing the outfit with a bag from a beloved designer and a no-makeup look, PCJ is evidently sporting an impressive look!
Look#4 Sarah Jessica Parker in busy prints
If there is one thing we all have learned from Sex and the City, it is the impeccable sense of style of Carrie Bradshaw. This outfit of Sarah Jessica Parker is not a choice for the faint-hearted! The busy print of the bright green dress with cerulean shoes is a spring outfit we have already seen in many films and Instagram posts. But what makes this more awe-inspiring is the long coat that has been so elegantly added on top!
If you have plans to be the center of attention, then this dress can effortlessly make you the star of the evening!
Look#5 Olivia Palmero in all-black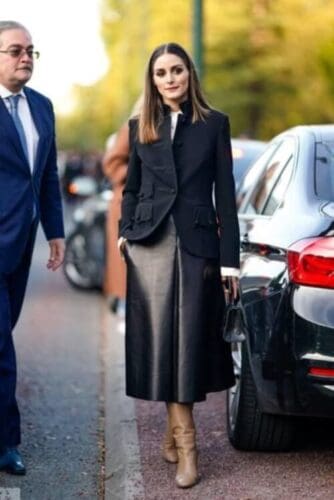 Stylists often opt for a plethora of vibrant hues for winter outfits, but this look adorned by Olivia Palmero is a class apart! The sophistication of the drape and the subtle textures of the layer keep the outfit understated and balanced.
If you have plans to look like the chic and polished woman that you are, then opting for a monochrome outfit like this could make every head turn in your direction with appreciation for your sense of style!
Look#6 Victoria Beckham in earthy tones
Victoria Beckham is the epitome of minimalist style in the twenty-first century. Her choice of wide-legged mustard pants and lighter coat looks stunning with the striped shirt. The outfit has a balance of colors and seams that can be repeated in various combinations.
Just a thorough observation of VB's general style will help you style your own pieces in a similar fashion!
Look#7 Keira Knightly in a leather jacket
The forever beautiful Keira Knightly in a pair of jeans and a leather jacket is a sight for sore eyes. The seemingly casual outfit can be worn any time and any day in the winter season. If the temperature drops below than your liking, then there is always the chance to wear a turtleneck beneath or a woolen scarf on top of the tee shirt to remain warm.
Look#8 Hailey Bieber in casual tees
Hailey Bieber takes the model off ramp look to another dimension with her mind-blowing sartorial choices like this outfit! The choice of shiny leather pants with a casual tee shirt makes this winter outfit the best choice for those who love some fun!
Relaxed waves in the hair and a pair of shades can add a touch of effortless elegance to this simple outfit.
Final Thoughts
Winter styles are a lot of fun when carried out with attention. A lot of the celebrity-inspired looks can be easily recreated at home without burning a hole in your pocket. All you need is a little attention to detail and little confidence in your style quotient. And voila! You are all good to go!