There are plenty of clothes out there that can reinvent your style. So what if you're short? These outfit ideas actually work for short men. So you can decide what to wear every day in under 30 seconds.
These short man style secrets are classic. And this is not about wearing just platform shoes. Or by tricking others by wearing a vertical stripes T-shirt. These short man style secrets are varied, effective, and on every stylists' mind.
Consider these secrets your ultimate dressing-up kit of the season.
Short Man Style Secrets
1. Wear Body-Fitting Clothes
Have you been going to the gym a lot lately? Well, it's time to show off with taut clothing. Loose and baggy clothes will only make you look even shorter.
Body-fitting clothes like pants that don't fall over your shoes. Or shirt sleeves that are longer than your wrists. Extra-wide or extra-long clothes will stretch your appearance. Making you look fatter and not taller.
So if you think long trousers make you look tall, you're wrong. They make you look wider. The pant legs should have no break. Break refers to the fabric that goes over your shoe. With extra fabric around the ankles, it's bound to fold over each shoe. This can make your legs look stubbier and stocky.
A lot of men think that baggy jeans or pants can make them look big. And by big, I mean well-endowed. Well, sorry to disappoint some of you, the extra fabric between your legs doesn't imply size. It just makes you look shorter and stockier.
What you need de facto is underwear for well-endowed men. It's the only thing that works and that won't interfere with your height.
2. Wear Medium to High-Rise Pants
Your trouser fit says a lot about your height. A low-rise trouser fit gives you a broader and fatter appearance. Especially from the torso when you tuck in a shirt into the trouser.
Opt for medium or high-rise trousers. You can easily tuck in shirts under them. Your torso looks firm and fit. And the pant legs don't cross the ankles right over your shoes.
Besides, one of the best short man style secrets is to learn to tuck in your shirt. Wearing a shirt that goes way past your hipbone can make you look shorter. So if you want to create the illusion of height, this is the way to go about it.
Long shirts and T-shirts create an oversized illusion. While most men might misconstrue this as "looking tall" you know better!
3. Don't Overdo Accessories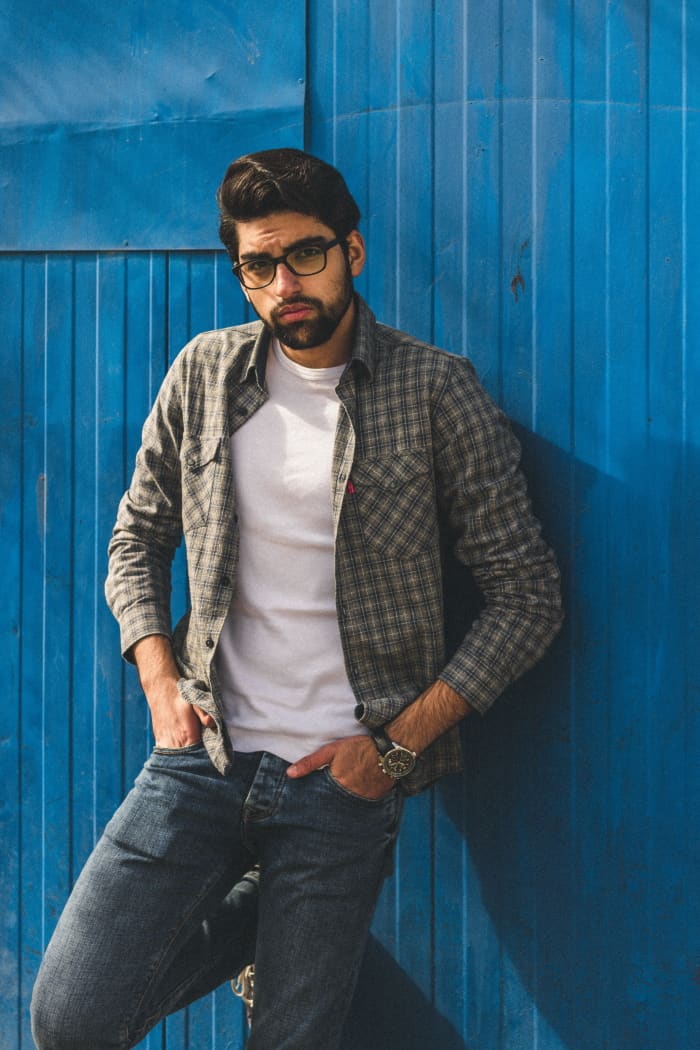 One of the best ways to appear taller is to focus on what's above your chest. This means avoiding flashy or bulky accessories like belt buckles. You want people to look at your face or chest rather than below the waist.
When people look at your upper half, you look taller in person. Avoid wearing flashy watches or pocket squares or contrast shoes. This will draw a person's attention to your lower body. The more the downward sweep, the shorter you might end up looking.
4. Stick to a Monochrome Contrast
This means buying clothes that don't contradict each other. You don't want your clothing to cut you into two sections. Instead, allow them to blend into each other. A good way to do that is by sticking to a less aggressive contrast. Enter – the monochrome contrast.
The monochrome contrast is when you don't go overboard with colors. Stick to colors that are more or less part of the same color family. And avoid bright, solid colors like a solid black, bright red, blue, green, etc.
Look for colors in between light and dark. For example, to wear black, go for something lighter than black but darker than grey. Always wear lighter colors on top to create a streamlined and lengthening effect.
Final Thoughts
With short man style secrets, all you have to do is not cross the line. This means finding a good tailor who understands your style and body type. Most of all men's clothing is designed for tall or medium-height men.
That's why when you first enter a men's store, you're immediately struck down with reproach. The frustration of not knowing what to buy has now come to an end. With this article, you'll know how to style and what to wear.
Even better, you can finally make clothes for you and not the other way around. So think over some of these short man style secrets. And find new ways to look fit and tall.
About the author
Kathy Harvey is an underwear expert. Naturally, she is the only person responsible for the success of the very useful platform called Undywears. Her blog is slowly gaining momentum on the web. All thanks to Kathy Harvey's unabashed point of view that takes the form of top underwear recommendations to suit every type of personal preference most men share in common.