Jumpsuits and rompers are just the perfect balance between comfort and style.
You get an entire outfit in just one piece of clothing and, if you happen to pick the right one, your investment will work with so many different accessories to create all kinds of different looks!
If you're still sitting on the fashion fence when it comes to the romper or the jumpsuit, read on!
Here's why you need one of these comfortably chic guys in your closet right now, with a few handy styling tips along the way, too…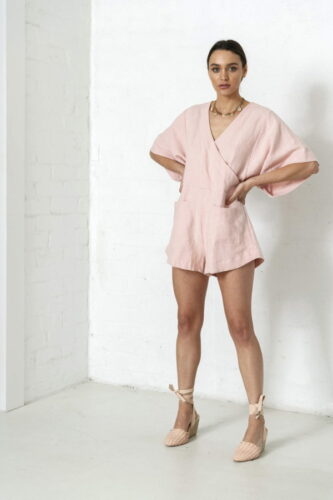 Convenience and Speed
Getting dressed is a total breeze when you have a collection of comfortable one-pieces in your wardrobe!
Stepping into just one piece and being able to run out the door is the definition of convenience. If you find yourself scrambling for a stylish and easy outfit first thing in the morning more often than not, then jumpsuits and rompers will really change your life.
The convenience and speed provided by the step in nature of this style are just otherworldly; they are an outfit in an item!
Contemporary Classic
Jumpsuits and rompers are fast becoming a contemporary classic. There are so many reasons why we're all choosing to adopt this piece as a new kind of modern wardrobe staple.
This cut is fast emerging as a classic that's as traditional as your dresses, denim and tailored suits are. A classic piece is never going to go out of style, making it perfect for investing in. You can score yourself something that's super high quality, incredibly beautiful, and perfect figure-flattering that you'll love for years and years to come.
Designer jumpsuits and rompers are all around, so take a look and study up on styles to thoughtfully spend your money on. Remember that slow purchases are kinder to the environment, will last you eons longer than fast fashion, and result in better style satisfaction down the line!
Cross Season Styling
The endure and effortlessly elegant nature of the romper or jumpsuit makes it the perfect base for putting together all manners of different looks and styles.
Use your jumpsuit to start gorgeous winter looks by layering on cashmere knits, leather jackets, and long-sleeved tee shirts.
Add leather boots, sneakers, or dress shoes for a cozy and chic outfit that's still incredibly comfortable. A romper really will be your boho best friend during warmer months.
Wear with platform espadrilles, silk shawls, statement jewelry, or alone for fabulous outfits, whatever the occasion!
Day or night, summer or winter, you're going to love styling that jumpsuit or romper, whatever the weather!
Style Shapeshifter!
A beautiful jumpsuit or romper has so much potential for playing around with style.
Go for a classic chic look by wearing yours with leather mules, pearl jewelry, and a silky shawl.
Maybe you're feeling a little more boho? Add stacks of metal jewelry, woven leather sandals, a floppy sun hat, and a crochet cardigan.
Wear your one piece to the office by layering a turtleneck underneath, and your best-loved blazer on top. You get the picture, your designer jumpsuit or romper can honestly come with you everywhere!
Are you ready to start hunting for your perfect jumpsuit or romper?