It's easy to look glamorous when you're all dolled up and camera-ready. Skin smoothed with full coverage foundation, cheeks carved with sharp contour, eyeliner to bring out the eyes – these are all little tricks that we can use to make ourselves feel beautiful. Makeup in itself is merely a tool, and there's nothing wrong with enjoying it and using it as a form of self-expression.
However, there's something deliciously empowering about knowing that you don't need that much makeup to feel like a gorgeous woman, and most of us seek to feel good in our skin even when our faces are completely bare.
Now that most of us are working from home, doing a no-makeup makeup is the perfect way to avoid the hassle of painting your whole face, but still look fresh on all those Zoom meetings. Are you curious about how to accomplish this low-effort, high reward look on a daily basis? We're here to reveal all the secrets.
Drink more water
Want glowy skin without any foundation? Then you've got to hydrate it well, and you've got to start from the inside. No amount of moisturizer will help you if you don't drink enough water on a daily basis because our skin needs water to stay plump and elastic. If you have trouble remembering to drink enough, try carrying a water bottle around wherever you go. Keeping it close like that will remind you to take small sips throughout the day.
Become regular sunscreen wearer
Sunscreen protects us against wrinkles. In addition to keeping your skin well-moisturized and avoiding alcohol and tobacco, the best way to keep that youthful, healthy smoothness is to wear SPF on a daily basis (yes, even in winter). A steady habit of daily SPF will prevent photo-aging and give your skin a natural glow even with the most minimal of makeup.
Use only quality makeup
If you want your makeup to be invisible, then shop for the right kind of products. Find a good makeup online shop that you can trust, and invest your money into things that use quality ingredients. Not only will these products nourish and care for your skin, but they're also bound to look more natural.
It's a particularly good idea to grab a quality light coverage foundation or a BB cream because it will help you cover a few flaws while still allowing your personal beauty to shine through.
Choose cream products
Powdery makeup can look heavy and cakey even when you put a minimal amount of it, but cream products will never fail you. It's much easier to blend creams into your skin seamlessly, and with only a dab of cream blush and bronzer, you can give your face some dimension without ever making it look like you're wearing anything.
Use your fingers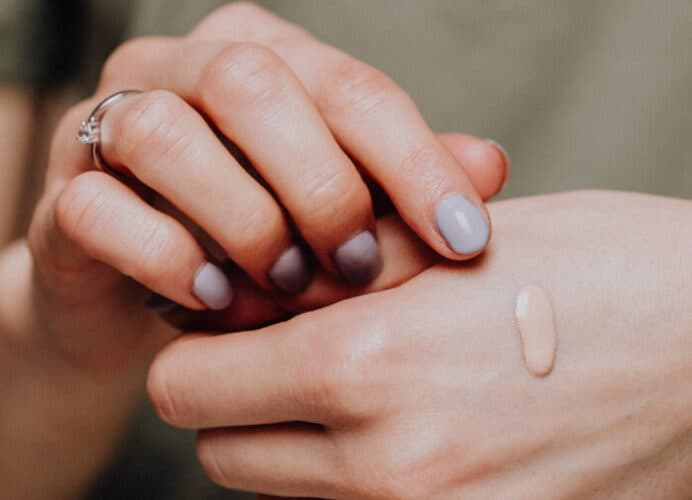 People underestimate the simplest tool everyone has at their disposal – their fingers. While makeup brushes and sponges can certainly give a beautiful finish, using your fingers to dab in concealer and foundation can be even easier. The warmth of your fingertips can help products sink into the skin, and smooth, circular motions will help you spread everything evenly.
You can apply any kind of cream product with your fingers, from foundation to eyeshadow. Give it a go and you'll see just how easy it is.
Dab on a touch of highlighter
Highlighter usually sounds like something that should only be used on special occasions when you want to look glamorous, but it's actually a powerful tool that will ensure your no makeup makeup looks entirely natural.
Grab some pearlescent cream highlighter and dab tiny amounts of it on strategic spots – top of your cheekbones, your brow bone, and the tip of your nose. You don't even have to use foundation underneath! This trick alone will make you look fresh and glowy in no time at all.
Get enough sleep every night
Concealer can only do so much. When we're tired, our face looks pale and swollen, and we usually develop dark circles or eye bags that don't look all that appealing. Not getting enough sleep will affect your overall skin health, and it can give you wrinkles and a sallow tint that will make you look sickly no matter what you do. Try to regulate your sleeping schedule and get at least eight hours a sleep a day to help your skin recover. That way, you won't have to overuse concealer just to even out your skin tone and you'll be able to get away with nothing but a light BB cream.
In general, the no makeup makeup look requires you to take good care of your face every single day, and to be very light-handed when it comes to application. Keep your health in check, use good skincare every day, and use makeup strategically. That's really all you need to look gorgeous with very minimal effort.