Spring is the best time for fashion because you can experiment with different styles. Unlike winter, it's not super cold, and you can get rid of bulky puffers and replace them with something more fashionable like a bomber jacket or denim jacket.
The mix of warm and cold weather allows you to choose layering pieces that are slightly warm yet fashion-centric. Secondly, you can also wear your favorite summer tees along with it. As spring is approaching, we thought of giving you some tips for a stylish upgrade. You will find a recommendation that you should follow, and faux passes that most people do but should be avoided.
Elevate your style with spring prints
Spring is all about colors and blossom; you can add the same to your ensemble by mixing and matching prints with a solid tone. A pain chino will pair well with polka dots or a light print shirt. If you're not into prints, you can also try soft spring hues like yellow, baby pink, sky blue these colors are perfect and depict the fun side of you.
Choose the right outerwear.
Spring is the time when the nights are chilly. For this, you will need a lightweight jacket that's will not only keep you warm but look incredibly chic. You can also carry the jacket along if you're not going to wear it right away. For this, it's best if you go for timeless leather jackets. They're not only wickedly sharp but also versatile enough to go with anything you wear.
Pick the Right Blazer
Blazers are essential when you need to dress higher without looking too formal. If you're invited for a party or will be attending a friendly get-together, wearing a blazer over your button-down shirt and plain black chinos will steal the show. Go for versatile colors like grey, blue and brown, so that you can get the most use out of it by trying different combinations.
Don't go too Floral.
Floral prints are cool, and it's understandable if you want to reinvent your wardrobe, but you shouldn't overdo it. A single statement piece is more than enough. Moreover, you need to diversify your wardrobe with different stuff like tropical prints, checks, polka dots. All these are bold yet flattering pieces.
No Color
The all-black look is perfect for fall and winter, but now it's time to embrace colors because spring is just around the corner. Go for pastels tones. They're perfect for spring and summers and show a youthful, fun-loving side of you that also communicates well through your dressing. Avoid colors at this period would look plain boring and as if you're not creative enough to add some colors.
Don't go overboard with accessories.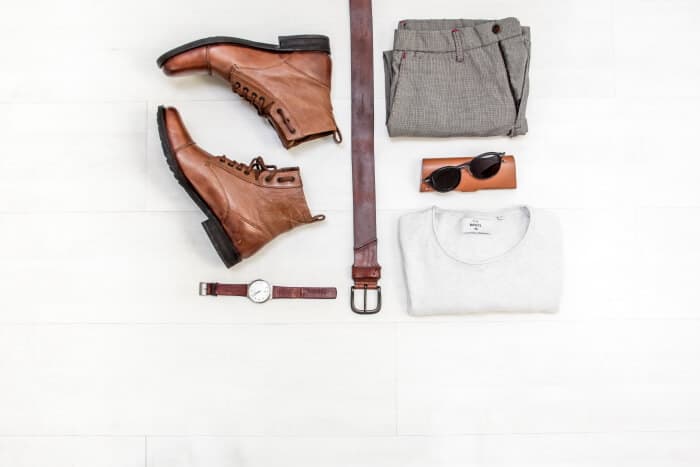 Accessories are essential because they add character to your entire ensemble, but adding too many accessories can do just the opposite. It will take away from your outfit and make you look as if you're trying too hard. Keep your style minimal by wearing a wristwatch or bracelet, and you're good to go. Avoid throwing in too many bracelets, rings, and necklaces at once.
Maintain a Trim Silhouette
Just throwing in baggy shirts and trousers won't make you summer-ready. Make sure you wear clothes that accentuate your physique. Slim-fit jeans, polo tees, or button-down shirts with denim jackets are perfect for looking stylish during the spring season. Avoid shapeless, oversized sweatshirts, hoodies, and sweatpants.
Wear Tailored Clothes
If you need to look well dressed, off-the-rack clothing will do no good. It's okay for t-shirts, jeans, and other casual options. Still, for the days you need to look sharp and formal, make sure to get your clothes tailored by a professional, especially your shirt. A professional tailor will make sure your clothes complement your physique and fit well from all angles.
Dress according to your body type
Most people usually underestimate body types when selecting their clothes; they don't realize that it's one of the most critical factors that can make or break one's style. When buying clothes, make sure you know your body type and then select clothes that hide your weak points and accentuate your stronger points. For example, men with rectangular body shapes should wear something to broaden the shoulder and make the waist appear slimmer.
Do not overlayer
Layers are essential for spring because the weather is so unpredictable. It's always recommended to carry the leather on a lightweight bomber jacket or a leather jacket that you can wear when the weather takes a dip. But some people often misuse the purpose of layering by overdoing it. You don't want to look like you just got out of bed.
Avoid Gaudy Colors
Spring is all about happening tones, but this doesn't mean you should go the extra mile by wearing neon green, pink, and blue its grabs too much-unwanted attention. Pick clothes with cool hues that make you look good without being insanely bright.
Pick the Right Shoes
A good pair of shoes can tie your outfit together. If you do everything right according to the guidelines mentioned above but fail to wear the right kind of shoes, it will all go to nothing. One thing you would want to do is avoid flip flop or sandals with socks. It's the biggest styling fails regardless of the season. Opt for trendy slip-on loafers, white sneakers, leather boots, and oxfords, and you're ready to shine. If Chelsea boots are your thing then check out our guide on how to wear Chelsea boots.
Bottom Line
To wrap things off, these were some of the basic guidelines that will help you get through spring in style. It's nothing complicated, just a few basic rules and style faux pass to avoid this season. There are chances you might be doing some of these already, so it's about time you make some minor adjustments to your style, and you'll be ready to steal the show.