It's quite sad and disheartening when one starts losing clumps of hair during chemotherapy treatment.
Where cancer itself makes everything dreadful, their losing hair worsens the situation. It becomes so distressing to even step out of your space during that time. Even this side effect of suffering from cancer becomes more fearsome than chemotherapy complications.
A bald head is a clear symbol for many that indicate he or she has cancer, which becomes hard to conceal from others at that time.
However, preparing to cope with unnatural circumstances can help you come out of this dilemma.
There are several cool options you can go with besides taking complete care of your scalp. Read on this article to get stylish and lasting ideas for hair loss after Alopecia and cancer.
Why Does It Happen?
The cancer-killing drugs used during treatment of people attack cell formations, including hair follicles.
Though these powerful medications are used to attack growing cancer cells, unfortunately, the drug attacks other cells of the body too.
It might cause complete body hair loss, not just from the scalp but also from the armpit and other body parts. It can cause complete head baldness!
Ways to Protect Bare Head During and After Treatment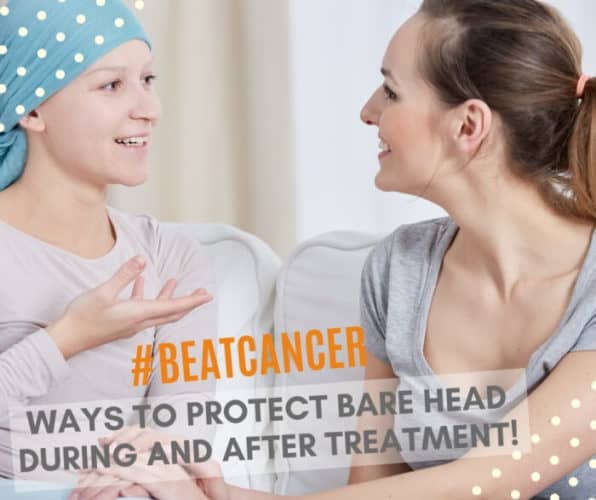 There are several ways you can opt to keep your scalp protected while going through such a crucial time. Here are the ways!
Keep it Clean
Choose organic & hydrating shampoo to clean the scalp. Chemically filled shampoos irritate the skin by drying it out, and chemically driven preservatives such as methylparaben, butyl, ethyl, propyl, methyl, etc. can bring unnatural & detrimental results to your skin.
Protect from the Sun
Sun can prove quite bad for your bald scalp weather you are suffering from cancer or not. However, while in chemotherapy, the skin becomes more sensitive and gets burnt easily.
Sunblock with UVB and UVA protection can be applied to the head and should be reapplied every two hours for better results.
Better yet – take a cap or scarf or even wear a wig to keep your scalp safe.  
Keep It Moisturized
Chemotherapy drugs can make the skin dry and irritated too, which can cause infections too.
So, it's important to keep your scalp moisturized by using an organic cream, lotion, or ointment. After a shower, apply a moisturizer to the scalp and gently rub until absorbed.
Try Bee Bald's Smooth Head and Face Moisturizer or Proactiv's Green Tea Moisturizer.
Lukewarm Water can be Panacea
The sensitive scalp can make the skin feel like flaming up. In that case, hot water can prove as troublesome for it. Instead, you should use a warm shower or lukewarm water to get a comfortable feel on it.
Take Care while Using Oven
Just as you take care of your hands and other body parts while coming in contact with fire, you need to keep your scalp protected. The scalp's sensitivity can lead to a blast of heat that can, in turn, burn out the scalp.
Stylish Ideas to Stay intact from Hair Loss During Chemotherapy and Alopecia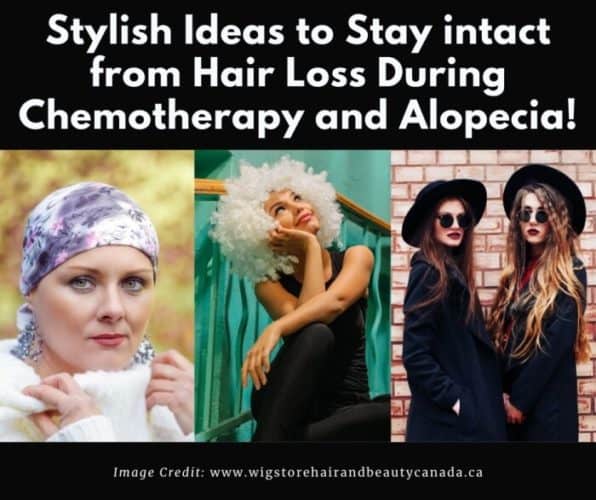 Chemotherapy and other cancer treatments lead to losing the hair, which does not just result in tweaks in physical appearance but also fills that person with mental stress. But no worries as we have compiled up the best ways you can opt to hide this hair loss. Have a look!
Scarves
The versatile in style, color, and patterns, scarves can serve the best purpose of saving you from all odds. You can pick any option as per your choice & personal taste. Scarves are also less expensive contrasting other options.
While choosing a scarf, keep these important things in mind!
Consider the scarf fabric you are choosing. It should be breathable, soft, and lightweight. You can pick cotton or rayon stuff for that.
Pick only that which suits your personality. The options are in abundance, so try choosing one that suits your style.
Try rectangular scarfs as these can be hanged behind your head, putting an illusion of your hair.
You can try a scarf pad to add some volume to your head.
Hats
Another alternate is a hat that adds a unique spark to your personality and makes you look more stylish than before. Again this option too has numerous styles, colors, options to adopt. It's quite comfortable while wearing and also quite affordable.
However, some precautions you should adopt while taking the option of hats!
It should have full coverage of your head.
Pick the one that's comfortable while wearing and have a secure fit so that you can wear it without having any stress.
Look at various types of hats like turbans, sleep caps, sun hats, knit hats, and many more. Go through each aspect of these and pick the right one.
Wigs
Wigs for cancer patients or hair extensions are surely a good option you can go with. You can pick any of the wigs Canada options. Though the option is expensive, you can attain emotional balance while going through cancer treatment.
Pick the wig suiting your personality.
Choose human hair wigs for a natural look, if the price is not an issue. Otherwise, synthetic hair wigs are also good to go.
The stability of wigs is important, so consider all types of wigs before purchasing.
Preview
By: Persephone
By: SR SHEENREAL
By: AISI HAIR
Mid-Length Bob with Bangs
Gorgeous Ombre Black-to-Brown
By: Persephone
Preview
Mid-Length Bob with Bangs
By: SR SHEENREAL
Preview
By: AISI HAIR
Preview
Gorgeous Ombre Black-to-Brown
Which Option Should You Pick to Deal with Hair Loss While Facing Cancer?
Surely, wigs are the best option as it lets you meet your original personality all over again. You can choose any type of wig that suits your appearance the most. This option is best, of course, when you are going to attend a gathering or function. In such sorts of get-togethers only wigs can bestow you with an original look, which hats, scarves or turbans can't provide in any way. Though it's expensive, it can give you the complete worth by bringing back your smile with your natural appearance.
We hope you get enough stuff to maintain the bald head and get stylish options to keep your originality intact even while going through cancer or alopecia. For any query, comment us below!