So, you snoozed your alarm a few too many times and now your carefully planned morning routine has turned into a race against the clock. You had a quick shower and threw your hair into a bun as best as you could, hastily applied your lipstick and arrived to work ten minutes late with wet hair and half your papers missing.
Let's face it, we've all been there.
The truth is, if you're anything like me, you're not a morning person. While I envy the type of people that are able to get up early, have a healthy breakfast and leisurely get ready for the day ahead, I always find myself waiting until the last possible second to get out of the comfort of my bed. When I finally do, I am usually met with the stress of having to look presentable in almost no time.
Luckily, there is a way to streamline your morning routine to maximize your sleep, save time and reduce the stress of getting ready for work in the mornings. To find out more, keep reading— today I'm sharing 5 easy tips to save time on your morning routine.
1. Plan Your Outfits
How many times have you been running late only to find you have nothing to wear?
Picking out your outfit the night before will ensure you never have this problem again. It will also save you significant time and stress in the mornings and allow you to make better style choices in return.
Create a few professional looks that you can keep in rotation throughout the week and be aware of when you have important meetings or presentations coming up. By planning your outfits ahead of time, you can carefully select the right attire for every occasion instead of just grabbing the first thing you find on your wardrobe floor. Let's face it, we know how we present ourselves is an important contributor of how others see us, so looking sharp, clean and professional can go a long way towards your career goals.
To ensure you don't have to go to work with mismatched socks, don't forget to plan these out the night before too. Lastly, keep on top of your laundry!
2. Prepare Coffee and Breakfast the Night Before
I'm totally guilty of skipping breakfast on days where I'm short of time. Not only will this make you grumpy, less productive and more difficult to work with, it can also lead to weight gain and adverse health effects.
Incorporating a healthy breakfast into your morning routine can make a world of difference to your mood and energy levels throughout the day. There are many easy, quick and delicious breakfasts you can make ahead and keep in your fridge or freezer for weekday mornings. Some of my favorite include overnight oats, muffins and cereal bars. Many of these are great cold and able to be eaten on-the-go to help you save time.
If you're like me and can't function without your morning cup of coffee, prepare the coffee machine in advance so all you have to do is press the on button. The smell of coffee is sure to wake you up and get you motivated for the workday. If you're really in a rush, you can even take your coffee in a travel mug and drink it on the way to work.
3. Tame Your Hair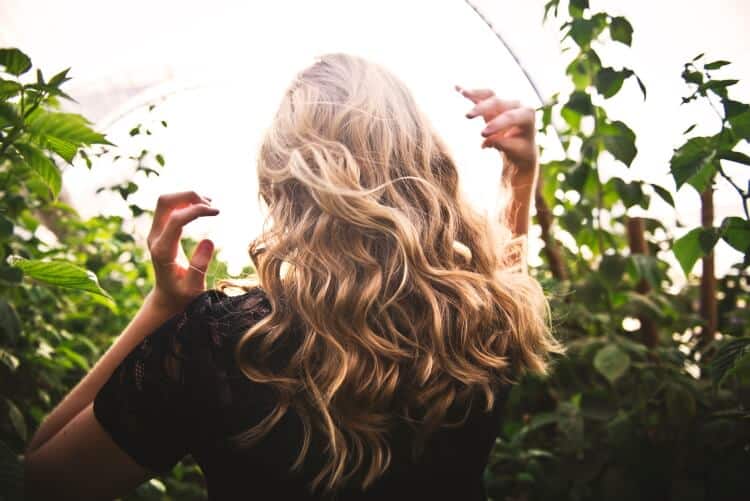 Taking a shower in the evening rather than the morning not only removes one whole step from your morning routine but it also saves you the time it takes to blow-dry your hair. You could even take it one step further and save time by styling your hair the night before. Braid your damp hair or put it in a bun before you go to sleep, the next morning simply let your hair down before work and spray with hairspray for long lasting glamorous waves.
Dry shampoo is also a great alternative for evenings where you just didn't have time to shower, adding volume and shine to day-old hair. That's my personnal natural hair care tip.
4. Optimize Your Makeup Routine
Women spend an average of 6.5 hours a week getting ready in the mornings! For many of us, a large part of that is doing makeup. Incorporating innovative, forward-thinking products developed for the modern woman is perhaps the best way to save time in your morning routine. One of my personal favorites is a winged eyeliner stamp from Quick Beauty. Drawing winged eyeliner by hand is notoriously difficult. Sometimes it turns out too thick, other times uneven, and it always takes too long. With the Quick Flick winged eyeliner stamp, you simply hold the stamp at the edge of your lash line and press for the perfect wing every time.
5. Pack the Night Before
How many times have you gotten to work only to find you forgot something at home? Packing up everything you need for the workplace the night before doesn't just reduce stress, it also means that when you're ready to go all you've got to do is grab your bag or briefcase and walk out the door. Make a checklist of the essentials— keys, wallet, files, laptop, charger — and pack accordingly every evening.
Who says you can't sleep in on weekday mornings? By streamlining your morning routine with these 5 simple tips, you can save time, maximize your sleep and begin your day feeling stress-free and refreshed.