Access to knowledge is so underappreciated in the modern world that many people often forget that we can read almost the entirety of all human knowledge from a few taps on the small device we carry in our pockets. Some people find it easy to get lost down the Wikipedia-rabbit hole, spending hours inhaling pages and pages of information and history, while for others, the thought of reading off a website is the last thing they'd choose to do. That's not to say they are rejecting a love of learning but are more likely to learn from other methods such as visual learning, hands-on learning or auditory learning.
Visual or auditory learning can be easily engaged with audiobooks, podcasts, informative videos and video tutorials. It's harder to engage a hands-on or kinaesthetic learner as they are shown to learn better through doing, moving or generally having some activity involved.
If you are looking for an educational break this year and want to engage your hands-on learner or your interest in kinaesthetic learning, these historic places offer a fantastic place to visit while igniting a love of knowledge and culture.
Step Back In Time With A Living Museum
Living museums are a popular attraction for education as they don't just keep artefacts and pictures from the time but often host a complete recreation of the time period, with staff getting into costumed characters that live and breathe the historic period they represent. Living museums provide a true-to-life experience of what life was like during that snippet of history and often provide the chance to get stuck in with activities and pastimes from the day.
A great example is Blists Hill Victorian Town, based in Ironbridge Gorge Museums near Telford. This open-air museum allows you to step back into the time of the Victorians, enjoy a variety of different demonstrations and get a real-life feel for what life would have been like all those years ago. A fantastic way to support school projects, Blists Hill Victorian Town offers a fantastic day out for kids big and small.
Another popular example is Beamish, the living museum of the North, here you can view life from the 1820s right through to the 1940s. Explore the buildings and shops in the 1900s town and enjoy a session in learning skills of the past including an opportunity to make bread, learn the skills required to drive a horse-drawn carriage and have a go at creating your own traditional sweets.
Follow in their Footsteps on a Walking Tour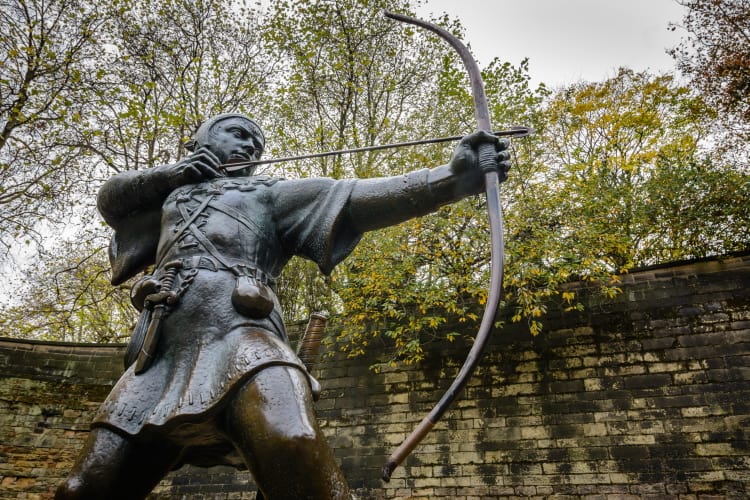 The UK is proud of its well-preserved historic locations and cultural experiences and walking tours are a fantastic way to follow the path once walked of famous figures from history. Walking tours offer you a view of places people used to work, live and enjoy free time and cover a range of historic periods and when choosing a walking tour led by an expert guide, you can gain an insight into the lesser-known facts and legends of the area.
In Nottingham, award-winning Robin Hood tours are led by Ezekial Bone and will lead you through a delightful trail of legends, myths and the ballads that grew into one of the world's most loved mythical heroes. You will explore ancient caves, learn more about the striking Nottingham castle and delve into the history of Nottingham with plenty of surprises to uncover along the way. A fantastic opportunity to experience Nottingham like never before.
Tread in the footsteps of a serial killer on a Jack the Ripper walk in London's East End, leading you through the original cobbled streets that this infamous murderer once stalked before claiming his victims in brutal ways. Learn about the top suspects of the time and why they still get talked about so much to this day including the regularly accused Aaron Kosminski and the quack doctor from New York, Dr Francis J. Tumblety.
These are just a few of the examples of hands-on learning opportunities available in the UK but there are so many more fantastic days-out to be had. Look out for your nearest living museum or treat yourself to a walking tour on your next city break and learn things you might never have had a chance to learn before!